・Contributing to undergrounding distribution system in Japan
・Material and product supplier for power and telecommunication industries
・Integrated company for comfortable metropolitan society




・ 88 years history of business relationship with electric power companies.
~dealing with material for both overhead and underground system in power transmission,
distribution and communication fields〜
・ Working on the undergrounding of power and telecommunication cables for 88 years.
・ Pioneer of precast handhole, manhole and cast iron manhole cover.
・ Working on common ducting systems of C.C.Box and Information Box, contributing Japanese
  Infrastructure developments.
・ Providing original technologies and products for risk prevention including earthquake-proof and
  anti-ground subsidence
・ measures as well as wide range of duct sealing systems and rust preventive products and
  anti-corrosive technology.
・ The approval of ISO9001(Quality) is acquired.

Founding

May 1, 1927

Establishment

March 13, 1942

Capital

100 million yen

President

Koji Kobayashi

Main customers

・Power companies such as TEPCO
・Electric Constructors such as KANDENKO
・Ministry of Land, Infrastructure, Transport and Tourism
 and other governments and local government
・Communication companies such as NTT
・Railway companies such as JR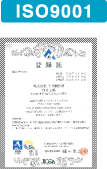 Quality Assurance
Our company provides material information and communication materials and electric facility to our customers, and we are always working to improve the quality, in order to provide better products that satisfy customers. In September 1998, we obtained the certification of ISO9001 quality assurance by International Organization for Standardization(ISO), and in September, we are approved the transition to year Edition ISO2000, and in July 2009, the transition to year Edition ISO2008 respectively (Examining Authority:Japan Quality Assurance Inspection (JICQA)) In accordance with the idea of a new quality system in the future, we will continue working to improve the quality than ever before.

Office
Head Office
Tokyo Genboku-kaikan 5F, 30-13,Toyo 5 chome, Koto-ku, Tokyo ,135-0016 Japan
TEL +81-3-3647-0210 FAX +81-3-3647-1421

Sales Division
Tokyo Genboku-kaikan 5F, 30-13,Toyo 5 chome, Koto-ku, Tokyo ,135-0016 Japan
TEL +81-3-3647-0151 FAX +81-3-3647-9484

Shiroi Factory
Shiroi Dainikogyo Danchi, Hiratsuka, Shiroi-shi, Chiba, 270-1402 Japan
TEL +81-3-3647-6493 FAX +81-3-3647-9484

Affiliates
Doi Tech. Co.,Ltd
Tokyo Genboku-kaikan 5F, 30-13,Toyo 5 chome, Koto-ku, Tokyo ,135-0016 Japan
TEL +81-3-3647-6493 FAX +81-3-3647-9484
Agents
Houkoku Shoji Co., Ltd./ Sappro
Toyokawa-minamiichijyo-building 8F, 5-7, Minamiichijyo Nishi, Chuo-ku, Sapporo-shi, Hokkaido, 060-0061 Japan
TEL+81-11-251-7683 FAX +81-11-222-7485
Taguchi Shokai Co.,Ltd./ Sendai
1-6-5, Ichiban-cho, Aoba-ku, Sendai-shi, Miyagi, 980-0811 Japan
TEL +81-22-266-2491 FAX +81-22-266-2494
Nihonkaishoji Co., Ltd./ Toyama
1-1-1, Toiya-machi, Toyama-shi, Toyama, 930-0834 Japan
TEL +81-76-451-3471 FAX +81-76-451-6816
Senshu Electric Co.,Ltd. / Osaka
1-4-8, Minamikanaden, Suita-shi, Osaka, 564-0044 Japan
TEL +81-6-6384-1103 FAX +81-6-6384-1320
NAGANUMA SHOJI CO., Ltd. / Hiroshima
6-14, Fukuro-machi, Naka-ku, Hiroshima-shi, Hiroshima, 730-0036 Japan
TEL +81-82-248-0214 FAX +81-82-247-6875
TAIHO Industrial Corporation/ Takamatsu
1902-1, Yashimanishi-machi, Takamatsu-shi, Kagawa, 761-0113 Japan
TEL +81-87-841-2345 FAX +81-87-841-3148
SEISHIN CORPORATION / Fukuoka
2-19-28, Yakuin, Chuo-ku, Fukuoka-shi, Fukuoka, 810-0022 Japan
TEL +81-92-711-9965 FAX +81-92-711-8077